DS Associates, located in Chennai, is one of the leading civil engineers and contractors for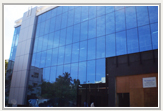 commercial and industrial plumbing installation & maintenance services.
As a second generation business with more than 40 years of cumulative experience, DS Associates offers excellent craftsmanship and outstanding customer services.
Started by Mr. T. Balasundaram in the year 1969, Mr. Devarajan is continuing the services of his father from the year 2000 after his graduation in Engineering from Manipal Institute of Technology, Manipal.
DS Associates has the ability to incorporate the commercial, industrial, plumbing & engineering needs of your project. We are able to design, implement, and contract all aspects of your development to provide you with one reliable contact responsible for ensuring individualized attention while delivering the project on-time, on-budget and within safety guidelines.
Continually strive to exceed customer expectations, and have a service-orientated attitude which translates into many of our clients returning to DS Associates as their new projects arise.
DS Associates bases estimates on realistic cost and timeframes so you are never disappointed. We communicate with you at all stages of the construction process, so that you know what to expect from us. We use only quality materials so that the results exceed your expectations.
Our commitment to excellence stems from four decades of family ownership and operations.
Our Mission
At DS Associates we strive to provide property owners with exceptional services that enhance a safe, healthy, and comfortable environment. We treat our customers and their property with integrity and respect and aim for excellence in all areas, including our outstanding customer service.